With the test of the Agni-5 missile, India has joined the list of those few countries which have inter-continental ballistic missiles.
The fire power of Agni -5 is more than five thousand kilometers.
Agni 5 missile length is 17.5 meters and it has cost about 2500 crore rupees. These missiles are capable of carrying 1.5 tons of weaponry inside China.
After being fully involved in the Army till 2014-15, the missile will increase India's nuclear hurdle several times. Agni missiles are an important part of India's resistance against nuclear attacks. The range of these missiles starts from 700 kilometers and now the fire has reached 5 thousand kilometers after the 5th.
It has been developed by Defense Research and Development Research (DRDO) only. DRDO chief VK Saraswat has said that in the countries like Britain, China, Russia and China, the intercontinental missiles are Agni 5 who have their collision with them.
He had also said in the recent Defense Expo in Delhi that the techniques used in Agni 5 are better than the techniques used in missiles of countries like USA. The techniques of Agni 5 include the overall Rocket Motor, Micro Navigation System (MINDS).
Agni was a two-stage range ballistic missile with a range of 3,500 km and now the third small stage has been added in Agni 5. Also the weight of fire 5 is also kept low. That is, its design is such that it can kill 1500 kilometers more distance from it.
DRDO scientists say that after successful launch of Agni 3 in 2010 and after the successful launch of Agni 4 in 2011, the same design has been developed for Agni 5. 60 percent of the two missiles, including the ecllorescometer, are identical.
Advanced Systems Laboratory Agni, operated by DRDO, has been playing an important role in the development of missiles. According to Avinash Chander, director of the institute, working on the third stage in the development of Agni 5 is a big technical challenge.
He said in October, "The third motor of the Agni 5 is the Konkanik Motor. So far, we had only worked on cylindrical motor. Work on the conical motor was difficult. "
Firepower - more than five thousand kilometers
Ability to carry 1.5 tons of weaponry inside China
Techniques- Composite Rocket Motor, Micro Navigation System (Minds)
Retired Brigadier Arun Sehgal, Joint Director of the Institute of National Security Studies, believes that Agni 5 will give India the shield against China that it has not yet.
India suffered a lot during the 1962 war against China. India has been claiming that China's growing nuclear capacity was a major reason why it had conducted five underground nuclear tests in May 1998.
Due to concerns over China's intercontinental ballistic missile and indoor ridge ballistic missile capability (IRBM), India increased the developed missile program in its own country so that it could develop long-range missile missiles.
The strategist of India's military policy has been concerned about China's DF21 Indoormate Range Ballistic Missile and its other versions. The range of these missiles ranges from 1500 to 2250 kilometers. They have been deployed in Tibet, from where other cities of India including New Delhi can be targeted.
Indian indigenous range ballistic missiles include Agni 1, Agni 2 and Agni 3, whose range is 700-800 kilometers, 2000-2300 kilometers and more than 3500 kilometers respectively.
Under them, under the supervision of DRDO, Bharat Dynamics Limited prepares Hyderabad and operates them with the Strategic Forces Command (SFC).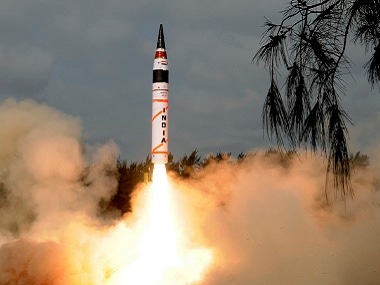 The Strategic Forces Command was formed in 2003. It is the responsibility of management and administration of India's nuclear weapons. Apart from this, SFC is also part of India's Nuclear Command Athletic (NCA).
Agni 1 missile can carry up to 1,000 kilograms of weapons up to a thousand kilograms. Agni 1 and Agni 2 have been prepared with nuclear arms-rich Pakistan in mind.
Agni-5 Nuclear Capable
But Agni-3 capable of carrying nuclear weapons was prepared in the wake of the Chinese army and the nuclear weapons in Tibet. Tibet is becoming more strategic for both China and India with a strategic vision.