In the meeting of the BJP Parliamentary Board, Venkaiah Naidu has been stamped for the post of Vice President. Union Urban Development Minister and former BJP president Naidu will be the NDA's candidate.
After the meeting, party president Amit Shah also spoke to the coalition parties. It is being told that all the BJP allies agree to Naidu's name.
BJP President Amit Shah said that after discussions with all the members of the Parliamentary Board and allies, it was decided to make Venkaiah Nadu as the Vice-Presidential candidate. Naidu has been in public life since the 1970s. He was a key leader of the South in the JP movement. Naidu is one of the most senior leaders of the country. Venkaiah had been associated with BJP since childhood. All the NDA allies have welcomed the name of Venkaiah. Nayudu will file nomination on Tuesday.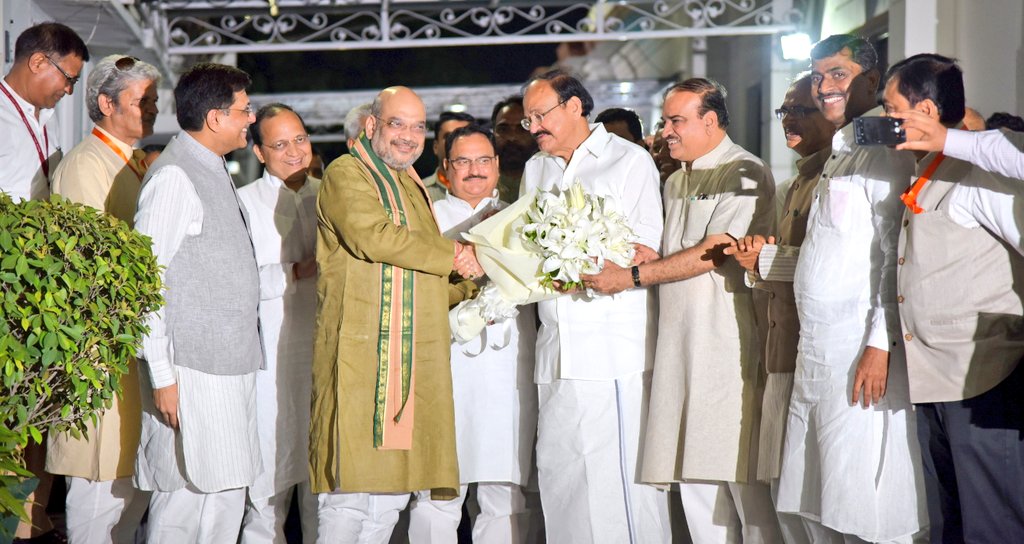 Before going to the meeting, Naidu had said that the party will decide the name of the candidate. Apart from Naidu, the name of Maharashtra governor C. Vidyasagar Rao and West Bengal governor Kesari Nath Tripathi was also being discussed in the discussion.
It is being said that the BJP-led NDA candidate will have a lot of experience in legislative work. The BJP is trying to give a political message through its candidate.
On the other hand, the Congress-led United Progressive Alliance (UPA) has made Gopal Krishna Gandhi, the grandson of the Father of the Nation, Mahatma Gandhi, as its vice-president. Gandhi met members of political parties on Sunday and sought his support. Although JD (U), supported NDA candidate in presidential election, it is in favor of UPA candidate for Vice President.